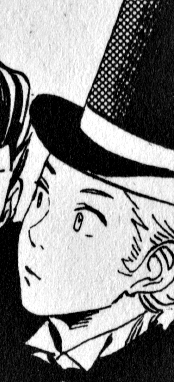 Viscount Trizdale, better known as Tizzy, is one of
Lord Akeldama's
drones
. 
Appearance
Edit
Tizzy is described as blond, with "an aristocratic nose," and is always dressed in some garish shade of yellow. He, like most of Akeldama's drones, is a dandy.
He has been known to wear canary yellow, dandelion yellow, and buttery yellow, the last of which appears to be his favorite. 
Personality
Edit
Tizzy makes few appearances in the series, with the first being a brief introduction at the end of Soulless, and the most notable being in Heartless and Timeless. He is often seen with Boots and other of Lord Akeldama's drones. He is rather loyal to his master and the other drones, and seemingly eager to please. 
In the books
Edit
Tizzy is briefly introduced near the end of Soulless as one of Lord Akeldama's particularly flamboyant drones.
In Heartless, Tizzy is often seen accompanied by Boots, and the two repeatedly help out the heavily pregnant Lady Maccon and assist her in traveling while on her mission to stop Madame Lefoux from killing Countess Nadasdy. Tizzy shows an interest in air travel, and the vehicles through which it is possible.
In Timeless, Tizzy becomes the reluctant babysitter of Prudence, his master's adopted daughter.
Tizzy's father, Duke Trizdale, is likely unaware of the fact that Tizzy (who is his only son) is a drone.
Biffy called Tizzy "that canary" when pointing him out to Lord and Lady Maccon in Soulless.    
"Biffy shook himself and pointed to one of the young men fussing solicitously over Lord Akeldama: a slight, effete blond, with an aristocratic nose, wearing top-to-toe butter-yellow brocade. 'See the canary over there? That is Viscount Trizdale, believe it or not." (Soulless, Chapter Fourteen)
"He paused while Tizzy tried to look as if butter wouldn't melt in his mouth, or on his trousers for that matter." (Timeless, Chapter Three)