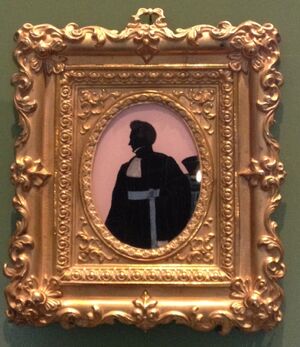 Shabumpkin is the newest drone of Lord Akeldama in the Parasol Protectorate series.
Appearance
Edit
Shabumpkin is tall and comely, with an affable face, a mop of curly hair, and a loose, floppy way of walking.
Unlike the rest of Lord Akeldama's drones, Shabumpkin is described as having a relaxed way of dressing, and appearing more like a commoner than a dandy. This disturbed the rest of Akeldama's drones, particularly Boots.
Personality
Edit
Shabumpkin seems to be confused and may have trouble adjusting to the life of a drone, as the few times he is mentioned, he seems to be causing a mess or creating an incident.
Little is known about Shabumpkin, including his full name.
In the Books
Edit
Shabumpkin is briefly introduced by Boots when Alexia notices an under dressed drone running around. Shabumpkin is always severely under dressed for every occasion and this causes him to be an embarrassment among Lord Akeldama's drones.
Shabumpkin, now possibly dressing correctly, brings a strange, brightly colored lizard about the size of a man's thumb into Lord Akeldama's house. The lizard is somehow lost and chaos ensues, with the drones shrieking, moving furniture, and looking around for the lost, tiny lizard. 
"He was a tall and comely fellow with an affable face, a mop of curly hair, and a loose, floppy way of walking. He also had the most poorly tied cravat Alexia had ever seen within walking distance of Lord Akeldama." (Heartless, Chapter Fifteen)
"Shabumpkin let loose a lizard in the front parlor.' 'A lizard? Whatever for?' 'Just because, I suppose." (Timeless, Chapter Thirteen)
Community content is available under
CC-BY-SA
unless otherwise noted.