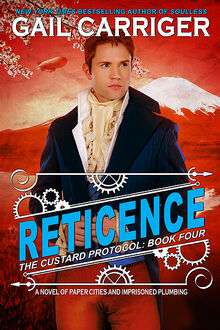 Professor Percival Tunstell is a major character in the The Custard Protocol. He is a childhood friend of Rue and the twin brother of Primrose.
Percy is son of Baroness Ivy Tunstell, a vampire queen, and Ormond Tunstell, a former claviger for the Woolsey Pack and actor.
Appearance
Edit
Percy is good looking, with red hair and pale skin from the many hours he spends inside reading. He is gangly and awkward, and wears spectacles. Inexplicably, he is attractive to debutantes.
Personality
Edit
Quesnel Lefoux calls him "Pompous Percy." Percy hates that he is inexplicably attractive to debutants, so he hides indoors and his only interest is in books. He is a good strategist and technician, good at coming up with redundancies and backup plans.
As soon as Percy came of age, he moved out of his mother's hive and accepted a post as an Oxford don. His time at Oxford didn't last; he was dismissed for radical theories on the transcendental sprout-shaped nature of the aetherosphere. Afterwards, he moved into a home behind the British Museum, off Russell Square.
In the books
Edit
In Timeless, Percy travels with his family to Egypt, along with the Maccons. His sister Primrose is mistaken for Prudence and kidnapped by the Alexandria Hive. She is later rescued by the adults of both families, and escapes unharmed, though their mother is fatally wounded in the attempt and is metamorphosed into a vampire queen while there.
Rue invites Percy to become the researcher, librarian, and navigator aboard The Spotted Custard. Percy agrees, and travels to India with Rue and her crew.
At the beginning of Imprudence, Rue, Primrose and Virgil are worried because Percy had taken off in a huff. They discover him in the library aboard the Spotted Custard in a near-rage over a paper Quesnel had done, but refusing to talk about it. Quesnel had published a story in the Royal Society with Mrs. Featherstonehaugh about the weremonkeys before Percy, which is why Percy was so upset. In retaliation he published his own paper on the werecats. When this fact is discovered while the crew is in Egypt, it leads Rue to believe the attacks on the ship have been an effort to capture Tasherit. Percy becomes very contrite and does his best to make up for his bad behavior.
Percy helped safely land the sinking Spotted Custard. He's also been the only crew member to become somewhat friendly with Rodrigo Tarabotti. He undertakes the task of teaching Rodrigo ethics in an effort to turn him towards their favor. Percy and Prim act as ambassadors to the pishtacos when they landed in South America.
Percy is one of the main narrators for Reticence. The story opens where he, Prudence, and Primrose are interviewing candidates for the position of surgeon upon the Spotted Custard. In walks Arsenic Ruthven and he is immediately flustered. She quickly proves her prowess and they are off to Prudence's wedding to Quesnel. There, Percy gets a request from his Aunt Softy (Sophronia) to look for a missing intelligencer: the Wallflower in Japan. A quick stop in Egypt for the newlyweds to see her parents, and they are given the official mission to go to Japan in search of fox shape shifters. Percy has, of course, already plotted their route. The air travel affords Percy the chance to grow closer to Arsenic. In Japan, they pretend they are married so that Percy can escort Arsenic off ship to see a patient: one of the fox shape shifters they were on the hunt for. They escort the patient back to the Spotted Custard where, upon the tense situation getting worse, Percy was unceremoniously shoved from the ship. He was rescued by Arsenic who, fortuitously, had a parachute. The two land with nothing worse than a sprained ankle and make their way through the hostile Japan countryside where they are rescued by a mobile temple and meet Lady Manami and the Wallflower. Together, they devise a plan to both be rescued by their crew-mates and save both the fox shape shifter and her dragon lover.
Percy once hypothesized that bacon could be blamed for the explosion of Mount Vesuvius.
Percy speaks six languages.
He does not like sweets or spicy food, and sometimes forgets to eat.
Percy is an excellent dancer and swimmer.
He has a valet named Virgil.
Drinks cognac.
Percy has developed an Information Cloud: An unique candelabra in Percy's library aboard the Spotted Custard. It is made up of hundreds of tiny books on a pulley system that can twirl and raise and lower at the whim of a person sitting at the desk below.
Percy is a crack shot and was taught by a vampire, his mother's praetoriani, Gahiji.
References
Edit
Community content is available under
CC-BY-SA
unless otherwise noted.