SOULLESS: THE MANGA is a three-volume adaptation of the first three books in the Parasol Protectorate Series to manga form. It is drawn by the artist Rem and published by Yen Press. There are unlikely to be more.
All three books are published under the title "Soulless," and are differentiated through numbered volumes. There are no further volumes forthcoming, according to Gail Carriger and there is not an intent to adapt Heartless or Timeless. Volume 1 hit the New York Times bestseller list at #2 on March 18, 2012. Volume 2 hit the list at #1 on December 9, 2012, the only of Gail Carriger's titles to reach #1. Volume 3 hit the list at #7 on February 24, 2013.
"
Alexia Tarabotti
is laboring under a great many social tribulations. First, she has no
soul
. Second, she's a spinster whose
father
is both Italian and dead. Third, she was rudely attacked by a
vampire
, a terrible breach of social etiquette. Where to go from there? From bad to worse apparently, for the appalling
Lord Maccon
(loud, messy, gorgeous, and
werewolf
) is sent by
Queen Victoria
to investigate the incident, and he is none too happy to see
Alexia
at the scene. With unexpected
vampires
appearing and expected
vampires
disappearing, everyone seems to believe
Alexia
responsible, given her
soulless
ability to negate supernatural powers. Can
Alexia
uncover what is happening before she becomes the next victim?"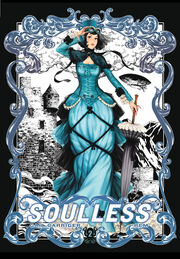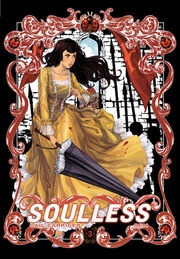 Foreign Language Editions
Edit
French manga translations ~ Pika
Edit
German manga translations ~ Carlsen Verlag
Edit
Taiwanese manga translations ~ Faces Publications
Edit
Would you like to find foreign translations? They occasionally turn up on Amazon and Gail donates all of hers, signed, to the Worldbuilders charity.
Will there be more manga? Unlikely.
Community content is available under
CC-BY-SA
unless otherwise noted.