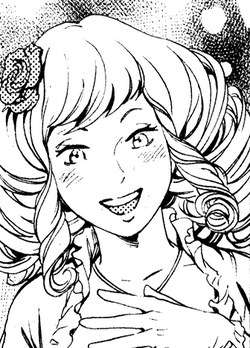 Mabel Dair is a well-known actress and drone at the Westminster Hive.
Appearance
Edit
She is slightly chubby, blonde, and pretty, with a friendly smile.
Personality
Edit
Mabel graduated from an acting school in London run by Linette de Limmone.
In the books
Edit
Mabel comes across Alexia Tarabotti and Ivy Hisselpenny in Hyde Park after Alexia was attacked by a vampire the night before. She extends an invitation to visit Westminster Hive on behalf of Countess Nadasdy, which is something previously unheard of for someone who is not a drone or vampire.
Coming soon.
Ivy, covering for Madame Lefoux in Chapeau de Poupe while she accompanies Alexia to Italy, overhears Mabel and Lord Ambrose speaking together in the shop about the Potentate's theft of Lord Akeldama's drone, Biffy.