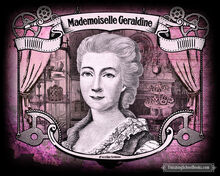 Namesake and headmistress of Mademoiselle Geraldine's Finishing Academy for Young Ladies of Quality, Mademoiselle Geraldine teaches dance, dress, and diversion. She supposedly has no idea about the school's more secret lessons. As part of the girls' training, they work to keep the academy's secrets from the older woman.
Appearance
Edit
Mademoiselle Geraldine is a well endowed older woman, with rinsed red hair, dark friendly eyes, and a generous mouth.
Personality
Edit
She is very concerned with the "quali-tay" of others.
After Mademoiselle Geraldine's Finishing Academy crash lands and closes its doors, Mademoiselle Geraldine formally adopts Handle. She provided him with medical training, and the two emigrate to America together.
In the books
Edit
Manners & Mutiny Edit
It is revealed that Mademoiselle Geraldine has known about the school's secret operations the entire time. She works together with Sophronia to expel the Picklemen who have commandeered the airship.
Mademoiselle Geraldine has a penchant for fake cakes.
She was supposed to address the girls as "my dumplings," according to Gail Carriger's notes, but this never made it into the books.[1]
References
Edit
↑ "Behind the Scribbles ~ Unused Finishing School Notes", Gail Carriger's blog
Community content is available under
CC-BY-SA
unless otherwise noted.