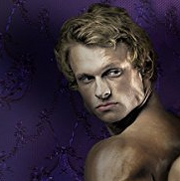 Captain Gavin Ruthen is a character from Poison or Protect featured opposite Preshea Villentia.
Appearance
Edit
Captain Gavin Ruthen is described as being a very large Scotsman - even being likened to a minor Greek god. His hair is brown with strands of gold in the sunlight.
Personality
Edit
Gavin is a soldier - good at taking orders and very tactical. He is also very caring, especially of his friends or those who need protecting.
Gavin was a master tactician in the Coldstream Guard, but gave up his position months before the events in Poison or Protect.
In the books
Edit
Gavin is introduced in Poison or Protect escorting his friend, Mr. Jackson, to a house party. Unbeknownst to his friend, Jack, Gavin is also going at the request of Major Channing to protect the Duke of Snodgrove against possible assassination. It is on this journey that he meets Preshea Villentia, also known as the Mourning Star. He assess she may be the likely assassin, but through out the house party discovers she is actually there to protect the Duke as well. The two grow closer, Gavin slowly breaking through Preshea's defenses. Between the two of them, they manage to keep the Duke safe and start a very daring, for both of them relationship.
Gavin refers to Preshea as leannan sith, or the fair folk.
Community content is available under
CC-BY-SA
unless otherwise noted.