Crudrat

Author
Gail Carriger
Release Date
2014
In the far future in a space-port the size of a city, Crudrats scrape out a meager living cleaning great machines of the pollution generated by converting dark energy into usable power. Only children can safely traverse the cramped tunnels, filled with mechanical perils–grow too tall or too broad, and they'll get caught on a blade and killed, or worse. Like rats, they scurry frenetically on their daily errands to clean the crud so their city can maintain orbit, only to face expulsion when they reach puberty.
Meet Maura. Orphan. Outcast. Crudrat. Grown too tall, alone in a space-port with no use for her, doomed to starve. With only her crud-eating murmel and an alien monster to help, she must find a way to survive, or escape, before they catch her and blow what's left of her life, and her companions, out into space.
Gail Carriger's Crudrat brings golden age-style science fiction adventure into the 21st century, stuffs it full of heart, and gives it a finely polished, gleaming edge.
Crudrat on KickstarterEdit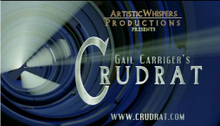 Crudrat is Gail's YA science fiction novel. Because of its unique tone Gail and her producer wanted to makeit into a full cast audiobook. A successful Kickstarter made this dream a reality. Also they made short story audio stretch goals!
See the Crudrat website for FAQ, information about the Kickstarter campaign, and more!
Crudrat was printed as a limited run, numbered, special edition, signed, hard cover book. This was available only to specific Kickstarter backers as a reward. It is not for sale to the general public.
Currently, Gail has no plans to produce this book in print for purchase.
Community content is available under
CC-BY-SA
unless otherwise noted.